National Commander Commentary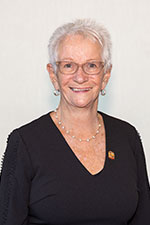 AnnMarie Hurley, Auxiliary National Commander
Partners in service
I am greatly honored by my fellow DAV Auxiliary members for electing me in Atlantic City as your national commander. The opportunity to serve in this capacity is both humbling and the thrill of a lifetime. It is my sincere hope that we are able to enhance and build upon what is already a tremendous record of assisting ill and injured veterans and their families during my tenure as national commander.
For more than 30 years, I worked as the executive secretary for the DAV Department of Massachusetts. This role gave me the chance to work closely with Auxiliary officers. Inspired by their example, I became much more active in the Auxiliary after retiring in 2005. I have served as treasurer of Unit 3 in Dorchester, Massachusetts, since its inception; Massachusetts Auxiliary commander in 2016; and national Auxiliary Mae Holmes Outstanding Unit Award committee chairwoman last year.
Many of my family members—like yours—have answered the call to serve, including my brother Frank, a retired major in the Marine Corps, who deployed to Vietnam four times. My late husband Michael and late grandson Michael James each served in the Navy. My nephews Michael and John Patrick, aunt Celia, and uncles Charles, Eddie and Bill all served our country. My daughters Shannon, Kristin and Margaret-Mary are Auxiliary members, as is my granddaughter Madison, whose paternal grandfather died in Vietnam.
My family is like so many others in our proud organization. We know what it means to sacrifice during and after a loved one's service. And together, we form
a special family of our own.
I want all of us to work to grow our Auxiliary family to continue to be a strong resource for veterans and their families from all war eras and branches of service. Reach out to veterans' families with an offer to talk and listen. Hear their concerns and thoughtfully respond with kindness and empathy. Remind them of what services are available.
Tell them how being engaged with the Auxiliary is a pathway to improving the lives of all veterans and their families. Share your passion for the Auxiliary and tell your own volunteerism story.
Please make sure they know that one is eligible for membership as a spouse, child, grandchild or extended family member of any person injured or ill because of their service or anyone injured and still in America's military.
Remind those who served in your family that any veteran who's eligible for DAV membership is also eligible for membership in the Auxiliary. Tell them about what makes your unit a special community and talk about the opportunities to get involved.
In the tradition of past Auxiliary commanders, I leave you with this reminder of what our Auxiliary is: partners in service for disabled veterans and their families.